INTRODUCTION
This was my submission to the 2020 Mapping Contest hosted by the developers, New World Interactive.
Contest had two stages: Community voting and judgement by a panel of judges comprised of NWI developers and industry leading level designer partners.
Oasis finished the public voting stage as 1st place out of 32 contestants and went on to receive 3rd prize overall.
Gameplay was featured by prominent streamers of the community and the level received very positive feedback from both the community and the developer studio.
---
CHALLENGES
This was my first ever video game level and I had zero prior experience in game engines or 3D software. I had to learn how to use Unreal Engine 4 while I was also learning best level design practices by doing extensive research.
While working on the level itself to make it in time for the deadline, I also needed to learn technical details like optimization and how AI functioned (for coop mode). I organized play-test sessions and made feedback forms.
Having no knowledge about game development, I had to organize my self-education routine and balance it with the actual development time.
Wanting to get into habit with industry standard practices, I forced my self to learn how to use project management tools. I first tried Jira, then settled on Trello, where I documented my workflow and managed the project.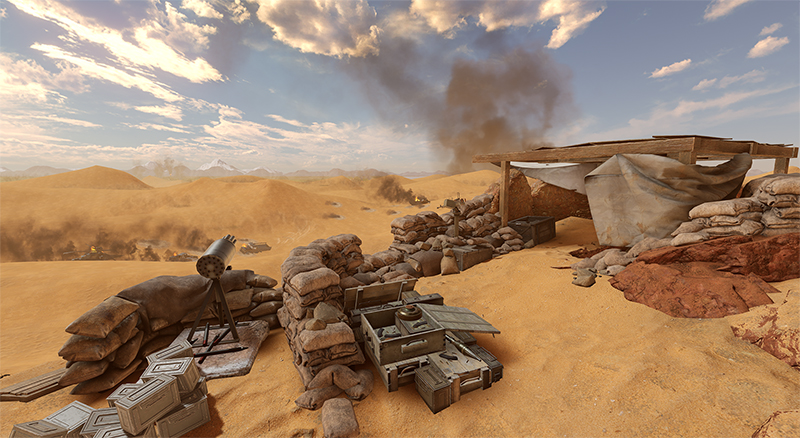 Everything was to be accomplished during the 20 weeks leading up to the deadline. This was not just a level design challenge for me, but also a period of rapid learning and growth.
Needless to say, I'm quite proud of the outcome, especially considering 1st and 2nd prizes were won by experienced level designers with multiple contest winnings under their belts and 5th prize went to a senior level design student.
PROJECT DETAILS
Development time: 20 weeks
Techniques
Level Design
Environment Design
Level Art
Lighting Design
Sound Design
Optimization

Tools
Unreal Engine 4
(Insurgency: Sandstorm Standalone Development Kit)
Wwise Sound Engine Unreal Integration Plugin
Adobe Photoshop
---
PLAN FOR CONTEST
Considering how the contest was structured, my goal was first to be able to pass the public voting stage.
First and foremost, I wanted to provide a solid PVP experience, since that is what I'm mostly passionate about.
Keeping this in mind, after having studied the audience, I concluded that most of the player base interested in custom content would be the cooperative PVE community.
I knew I had to appeal to a wider audience than just the PVP community, so time allowing, I definitely wanted to add a cooperative game mode.
Also I wanted the level to be downloaded quite fast so it would be more accessible to players, so I set myself a 500 MB file size limit. (Final size was only 370 MB)
GOALS
Exotic environment that is coherent with the title of the game, "Sandstorm".
Support for multiple game modes.
Unique elements never before seen in other Insurgency: Sandstorm levels.
Balanced and fun game play.
Well optimized even for the minimum requirements of the game.
Finishing everything on time.
Employment of as many techniques as possible as a learning practice.
---
RESEARCH
Having a decade of Game Master experience in the Tabletop RPG genre, I was really comfortable with pen and paper at hand. I started by sketching out what I call a layout diagram, basically these were schematics detailing relationships between different objective points on the level without yet having concrete spaces in place.
Since this was also my educational process, I was trying to explore different types of room connections and overall space management as well.
Here I made use of architectural techniques called "bubble diagrams" and "parti diagrams", these are basic shapes and geometries that are essentially fast doodles but can be quite useful in imagining spaces and relations between them.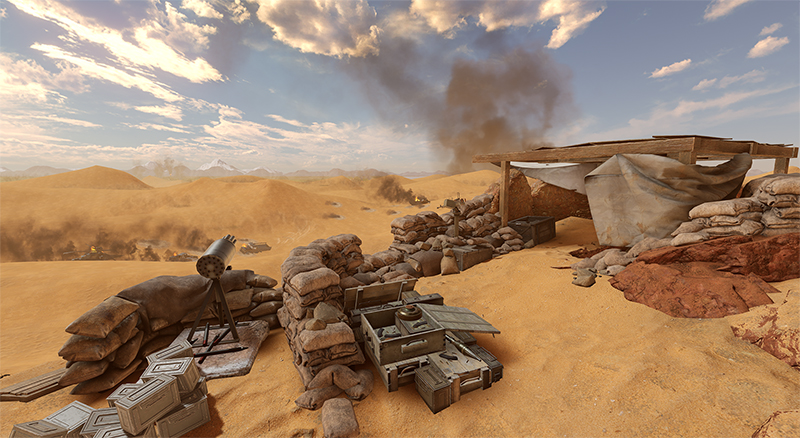 ---
Arenas, Strongholds & Flanks
The map has many arenas, strongholds and flanking routes. Their relevancy changes according to the game mode.
---
---
Environment Design
The environmet is centered around the oasis and its exotic natural surroundings. The river and the waterfall serve as great landmarks and contrast to the otherwise barren cliff-sides and sandy topography. Short and dry trees are scattered across, green and tall ones reserved only for select areas with plenty of access to water.
The two temple facades carved into the rockface mark the center point of conflict where all flow eventually leads. This area is distinctly contrasted with many white colored props and set apart from the rest of the level.
There are three distinct historical layers to the environment: (1) Ancient ruins that dot the oasis, (2) Recently overrun archeological site and civillian remains, (3) Current military presence, fortifications and signs of active combat.
---
---